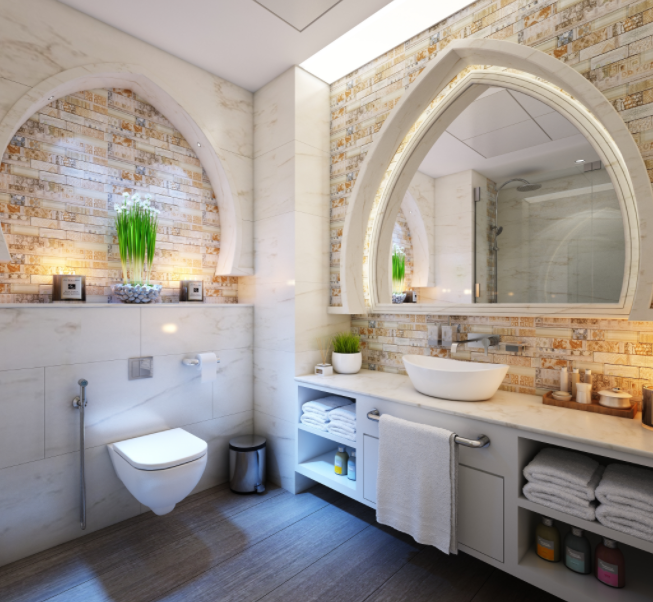 CALL 315-245-8323 FOR A FREE AND ACCURATE ESTIMATE
Are you ready for the works? A complete and monumental overhaul of your bathroom?

You're in the right spot because bathroom renovations are our specialty at Bathroom Remodel Syracuse. We're here to help guide you in creating your dream bathroom, one that functions to your desires and needs, and meets your own unique style.

A bathroom renovation starts with your vision. Our bathroom remodeling experts turn that vision into a reality.

We know that just thinking about any type of renovation to your home can ignite your worst fears and give you cold sweats. You might be nervous about altering one of the most important rooms in your home. You might be apprehensive about bringing a construction zone to your household. Or you may just be worried about your budget.

Those are all valid reasonable concerns. That's why we start with a free, no-obligation estimate and consultation.

From there you will work with a designer dedicated to only your renovation project. Together, you will choose the materials, layout, and every other minute detail for your bathroom remodel.

After that our licensed and skilled contractor will put your new bathroom together like a puzzle and apply the finishing touches. Your renovation is never complete until you are completely satisfied.
Considerations for your remodeling project
When planning for a complete bathroom renovation, there are many factors to consider, including:

Materials
From countertops, to fixtures, toilets and baths, select goods that are both your style and are within budget.

Layout
Do you wish your toilet was wear your linen closet is right now, or are your generally happy with the floor plan of your bathroom?

Colors
There are so many color choices available to you when selecting tiles, countertops, paint, wallpaper, and fixtures.

Functionality
Would you rather have a stand-up shower than a bathtub? Are you getting older and need your bathroom remodeled in a way that will help you age in place? Would a double vanity help your family get ready in the morning? These are all questions to ponder.

Lighting
This is an overlooked aspect of a renovation, but simple changes in lighting can help brighten your bathroom and make it a relaxing retreat.

Energy efficiency
The choice of fixtures, tubs, sinks, showers, light bulbs, and more, can possibly save you hundreds of dollars each year and bring a strong return on investment.

Budget
A bathroom renovation may cost a few thousand to many thousands of dollars. Our design and financing team can help you do the math.
Affordable and professional service in Central New York
Bathroom Remodel Syracuse has you covered when it comes to complete bathroom overhauls and renovations. With more than 25 years of experience, we are proud to have turned some of the ugliest bathrooms in Central New York into dream retreats that would make even the Property Brothers envious.

When taking on your bathroom renovation, you can trust us to deliver outstanding service and quality work in the following remodel areas: