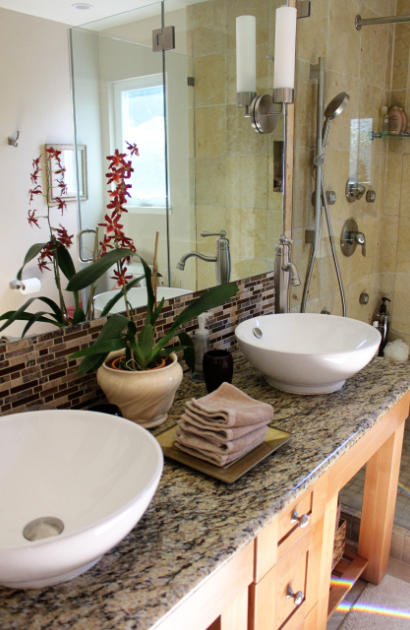 No bathroom renovation project is too big – or small – for Bathroom Remodel Syracuse. When it comes to bathrooms in Central New York, we can help you make it look and feel great.

Being a full-service bathroom remodeling company, we have the knowledge and expertise to take on complete renovation projects – from demo to applying the last coat of paint – as well as smaller design, renovation, and installation jobs, such as updating your cabinets or freshening up your fixtures.
We offer a variety of design and projects solutions to give you the best value for your budget. Thanks to partnerships with many notable local and national sellers, you will also have a wide-range of options when it comes to bathroom products and materials for your remodeling project.

Not sure where to start? Call us or complete the form below.

And don't forget to take a more in-depth look at your bathroom remodeling services lower on this page.
What we do
Design
When it comes to bathroom design styles, you have more choices than you'll ever want. Maybe you're open to different design option. Perhaps, you already have a vision in your head of how you want your bathroom look and flow.

No matter where you may be on the spectrum, our skilled designers at Bathroom Remodel Syracuse will work closely with you to build a bathroom that fits your unique style and everyday needs.

Our designers can help you choose the right materials and colors, as well as draw up a floor plan to maximize your bathroom area – whether you desire more storage, greater shower space or better functionality.
Renovate
​Do you want to completely demo your existing bathroom and start new? Or simply update and upgrade one or two components of our bathroom? No matter, our contractors can bring your visions to life in your home.

In addition to full-service renovations, we can assist with bathtub-to-shower renovations, moving walls, sinks, vanities, toilets, showers and bathtubs, bathroom additions, and alterations for the elderly, handicapped, and individuals with special needs.
Not ready to tear apart your bathroom? Opt for changes to countertops, fixtures and faucets. Or simply give a new shine to your bathroom by restoring the bathtub/shower, toilet and sink.
Install
When you decide on the materials, layout, and other features of your new bathroom, installation can begin, and your remodel will start to take shape fast.
​Our experienced contractors make this part of the process simple and stress free. Working with your project manager and designer, they'll carefully put together the pieces of your revamped bathroom and have it looking beautiful in no time.
We have the personnel to complete all manners of installation projects – from plumbing to electrical and more. Our team is skilled in installing flooring, tiles, cabinets, counters, lighting, showers, bathtubs, toilets, mirrors, fixtures, faucets, and more.
We can help with your project
Have no fear! Bathroom Remodel Syracuse is here for you.

If you appreciate value, high quality workmanship, and eye-catching bathrooms, then choose us for your renovation project.

We deliver the following bathroom remodeling services and much more to residents in Syracuse and Central New York:
Complete renovation
Bathtub-to-shower conversion
Bathroom additions
Bathroom adaptations for elderly, handicapped, and special needs persons
Cabinet and countertop installation and replacement
Fixture installation and replacement
Bathtub and shower installation and replacement
Sink and vanity installation and replacement
Fixture and faucet installation and replacement
Flooring and tiles installation and replacement
Plumbing
Electrical work
Call Bathroom Remodel Syracuse today for a free in-home consultation and estimate, and get started on your bathroom transformation!