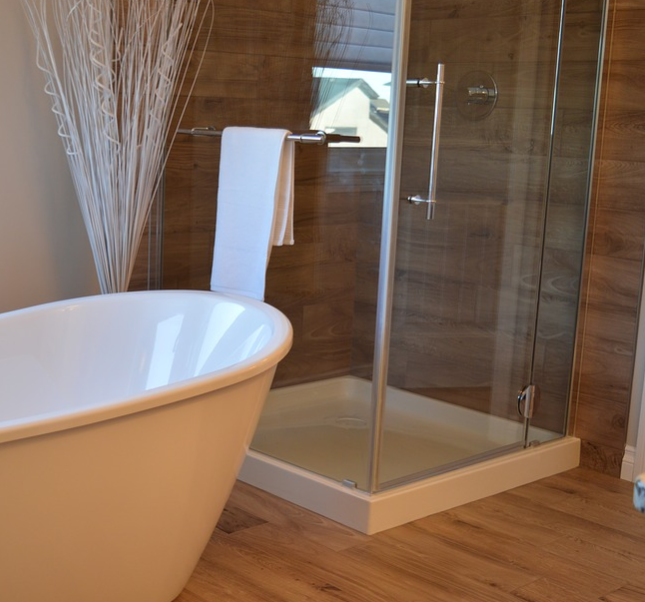 An old, outdated bathroom can be the greatest barrier to aging in place in the home you love. It can also be very problematic for a handicapped person or a person with special needs.

Bathroom Remodel Syracuse can renovate your difficult-to-navigate bathroom into one that is accessible, safe, and functional for everyone.

Whether it's you or your parents, we know that you don't want to give up your independence. You also don't want to put yourself in danger of slipping, falling, or worse.

A universal bathroom design is the solution. This type of bathroom is built for all ages and physical conditions. It can be a modest renovation and even upscale, with luxurious materials and components. You'll work one-on-one with our designers and contractors to choose materials and a layout that suits all your needs and budget.
Call Bathroom Remodel Syracuse today at 315-245-8323 or complete the form below for a free and accurate accessible bathroom remodel estimate.
Components of a handicap accessible bathroom
Depending on the age and condition of the people using the bathroom, even small changes can make a big difference when remodeling for accessibility.

Bathroom Remodel Syracuse is ready to help give you bathroom that fits your abilities and lifestyle, and delivers solutions to keep you in your home.

The following components of an accessible bathroom renovation can reduce and eliminate the need for walking, bending, over and climbing:
Shower with custom grip bars, faucet handles, shower doors and fixtures
Low-mounted sinks, toilets, vanities, and towel racks and bars
Handrails for balance
Showers and tubs with no edges to step over
Built-in seating for tubs and showers (shower bench)
Faucets that can be turned on without bending over
Lever handles or handle-less faucets
Wheel-chair and walker accessible layout and floor plans
Wider doorways, no doors, and open floor plan with no barriers
Curbless shower with no edge at door or drain slope
Handheld shower head
Wall-mounted sink
Make plans today to redesign your bathroom so you can age in place or care for a loved one with special needs. Call Bathroom Remodel Syracuse at 315-245-8323 to schedule a free consultation and estimate for your accessible bathroom renovation project.